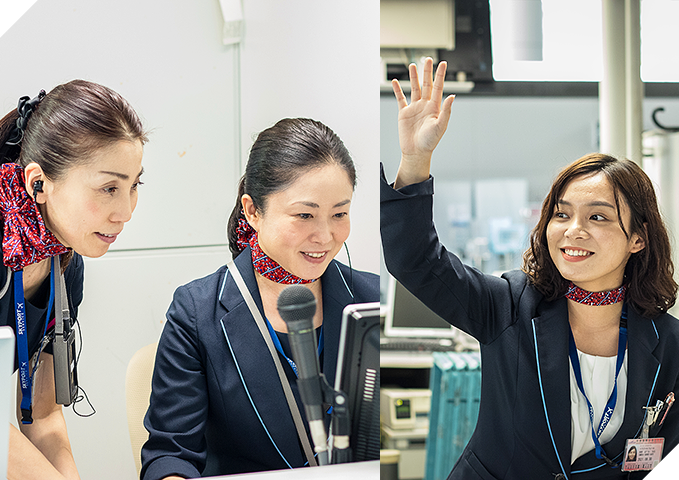 MAIN TASKS
Check-in, Ticketing, Gate Services
Special Services (Wheel Chair, etc.)
Guidance & Handling at arrival area
Handling of lost, delayed or damaged baggage
Operations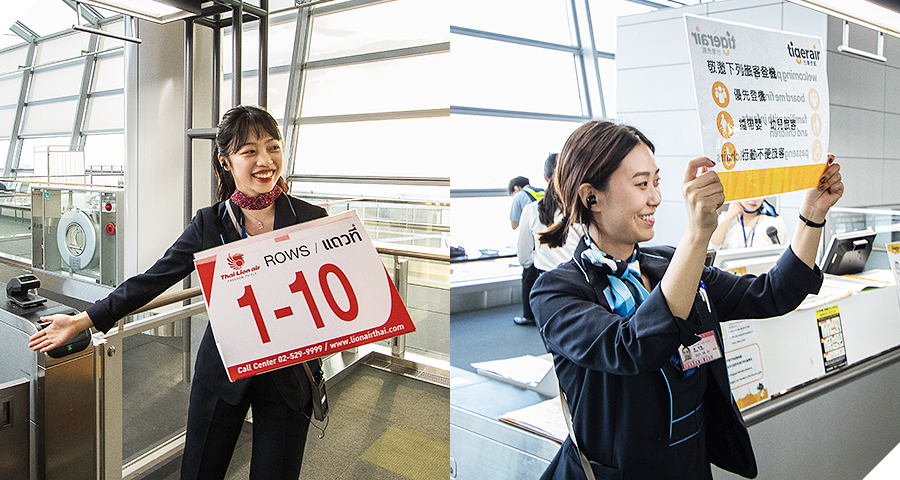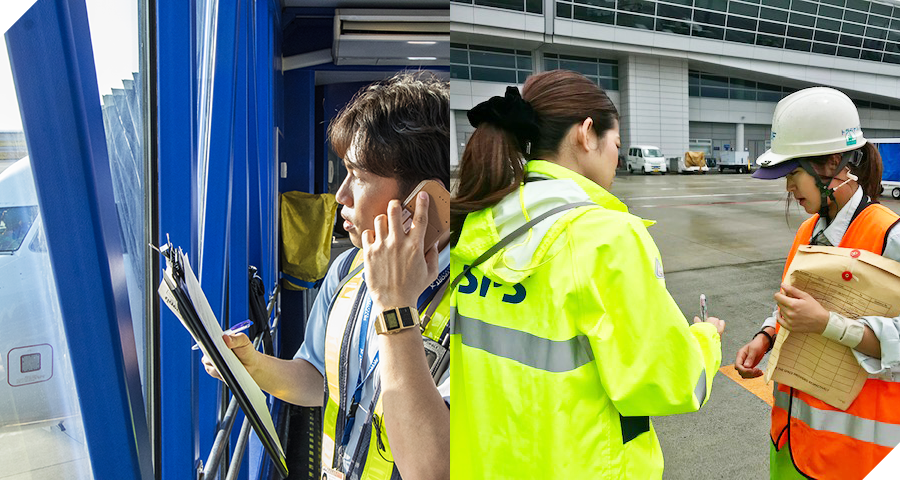 Message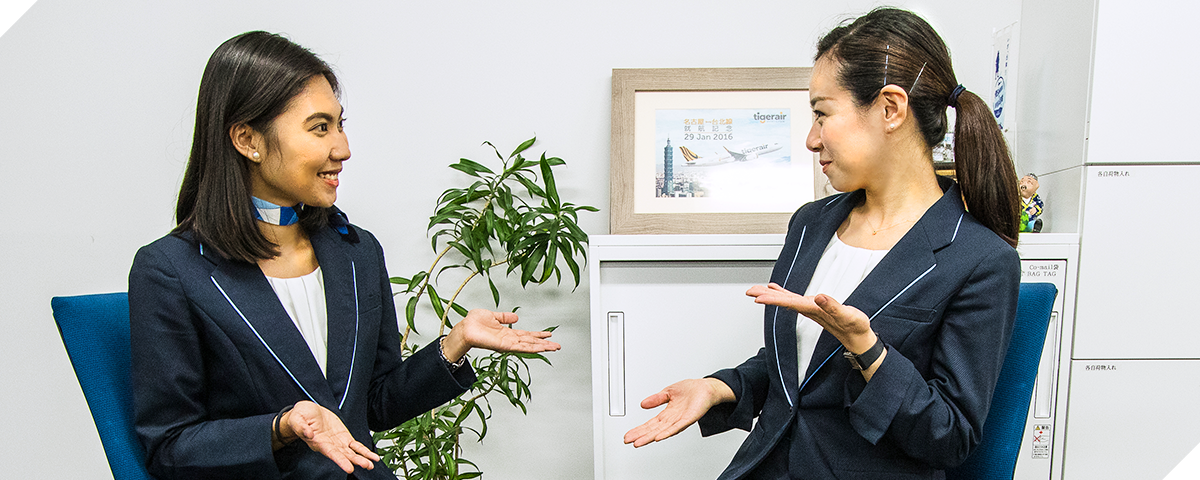 Greetings and welcome to Skyport Service Passenger Handling Division!

Hello, nice to meet you! My name is Mio and this is my colleague, Keiko. We are very pleased to have you here on our website! It has been a while since you may have heard from us and we can't wait to give you a glimpse of what our company have commenced to provide passenger service three years ago!
To start it off, Mio and I are excited to share with you that as of this year Skyport Service is officially providing passenger services for two international Airlines! With everyone's perseverance and help, we were able to expand our services and became the pioneer to start up the first flight of new airline from Thailand in Nagoya at Centrair International Airport on March 2019! Isn't that a great news Mio?


Most definitely Keiko! Did you also know that Skyport Service does not only focuses on the betterment of the firm but also supports the growth of its employees? Every year we are given the chance to expand our knowledge and learn new roles such as check-in/gate agent, gate in-charge, counter in-charge, operation agent, and supervisor. With the trust of Skyport Service, Keiko and I have been promoted as Supervisors for our valued customer airlines. We are very lucky to have the opportunity to improve, learn and progress in the airline industry!
Indeed, we are Mio! I can't believe that our division has grew to 20 members and is still expanding! Professionalism, providing excellent customer service, maintaining good rapport with our partners and teamwork has always played an important role to the ongoing success of our company and we want you to be part of it! At Skyport Service not only do we treat each other as brothers and sisters but everyone is given a chance to shine! By the way Mio, have you noticed anything different recently?


Yes of course! Finally, we have a new set of uniforms! I really love the design, how the royal blue base color would complement the Skyport Service' light blue scarf. The fit of the uniform which makes it comfortable to move around especially with our line of work and how versatile it is in all seasons. I have always believed that the uniform is also one of the factors that represents the company image!
I couldn't agree more Mio, the new uniform is timeless, professional and it definitely translates that we are Skyport Service. We have definitely raised the bar and becoming stronger every year! I cannot wait what the future awaits!

What are you waiting for? Come and join us to be a part of the rising success of Skyport Service!
Q&A

Hello!I am Park Sewon who has joined to Passenger Service Division last year.
Here I would like to share and introduce what I have been feeling, thinking and doing in my first year at this team.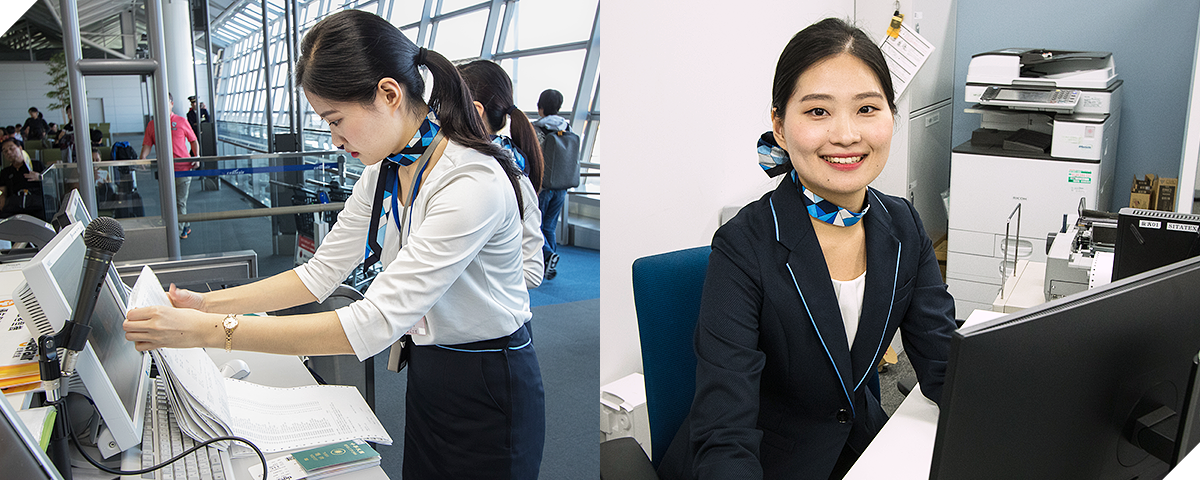 About Job and Role of Ground Staff's
In general, our main and basic roles are to check passengers' and departure time of flight related information in advance, to assist for passengers' check-in at the counter, to support passengers' smooth departure at the gate and so on. To maintain the punctual flight operation, we are required to obtain detailed and accurate information, such as passenger who needs special assistance, whether or not the traveler is required Visa, aircraft's conditions etc., prior to starting check-in duty at the counter. At the departure gate, for the purpose to secure of passengers' safety travel, it is very important to identify of each passenger accurately, to double check passengers' Visa, to make sure that passengers' baggage is appropriate size and weight before boarding, and then, we will be able to process boarding and taking over necessary information to cabin crews. After airplane leaves Chubu International Airport without problem and delay, we should execute post work at the office. This duty includes taking over of passengers' information to the destination, filling the documents and sorting them.
The most important point of this job
Putting the top priority to secure passengers' safety and punctuality is the most important key-point, and it must be established and maintained by our good teamwork. Even once an irregularity is occurred, we are going to resolve by teamwork, helping each other. Whenever I have an issue that I could not treat by myself, I won't hesitate and try to learn from my management, senior staff or colleague. One of remarkable attractiveness of SKYPORT SERVICE is very opened and supportive atmosphere, and it is highly important since teamwork is essential element for this job and for our role.
Message to those who desire to become Ground Staff
For me, the attractiveness to work at the airport as a ground staff is "to meet many people coming from many countries and areas" and "to work nearby the airplanes all the time", however, we might face to difficult situations sometimes on the other hand. As long as we maintain motivations, we are aware of what we must do as a ground staff and we keep being positive to learn a lot of things together with colleagues, it can become extremely rewarding and satisfying job for you.